French Nautical Chart of Martinique | 1831
A beautiful French nautical chart or map of Martinique issued in 1831 by the Depot de la Marine. Offers sumptuous detail both inland at sea. There are countess depth soundings as well as notes on undersea features such as banks and shoals. Equally impressive detail inland with beautifully engraved topography throughout. Today Martinique, with its French Caribbean culture, lush rainforests, and stunning beaches is considered a jewel of the Caribbean. Issued by M. Monnier and M. Le Bourguignon-Duperre for the Depot-general de la Marine in 1831.
Print:
A premium quality heavyweight (200gsm) fine art print material with a smooth, clean finish. This museum quality paper is extremely consistent and works perfectly with large, full colour graphics or illustrations. The matte finish emphasizes different highlights and tones in the source artworks; helping to create stunning works of art.
- All prints include a small 0.25 inch white border to ensure space for framing.
Our Eco Credentials Include:
FSC approved or sustainably sourced paper
Printed using water based inks
Local fulfilment reduces carbon emissions
Contains no plastic
Sizes:
A1= 23.4 x 33.1 Inches
A2 = 16.5 x 23.4 Inches
A3 = 11.7 x 16.5 Inches
A4 = 8.3 x 11.7 Inches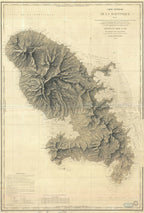 French Nautical Chart of Martinique | 1831