Burning of the Frigate USS Philadelphia | Edward Moran | 1897
Philadelphia, which had been refloated by its captors, was too great a prize to be allowed to remain in the hands of the Tripolitans, so a decision was made to recapture or destroy it. The United States had captured the Tripolitan ketch Mastico, renamed her Intrepid, and re-rigged the ship with short masts and triangular sails to look like a local ship.
A party of volunteers, led by Lieutenant Stephen Decatur, the son of Philadelphia's first master, was given the task. On February 16, 1804, under the cover of night and in the guise of a ship in distress that had lost all anchors in a storm and needed a place to tie up, Decatur sailed Intrepid next to Philadelphia. The Americans boarded the prize, and after making sure that she was not seaworthy, burned the ship where she lay in Tripoli Harbor.
Britain's Viscount Nelson is said to have called this feat "the most bold and daring act of the Age", but the authenticity of this quote remains in doubt.
The crewmen captured in 1803 were released pursuant to the 1805 Treaty of Tripoli, which ended the war. Philadelphia's anchor was returned to the United States on April 7, 1871, when Mehmed Halet Pasha, the Ottoman governor, presented it to the captain of the visiting Guerriere.
Print:
A premium quality heavyweight (200gsm) fine art print material with a smooth, clean finish. This museum quality paper is extremely consistent and works perfectly with large, full colour graphics or illustrations. The matte finish emphasizes different highlights and tones in the source artworks; helping to create stunning works of art.
- All prints include a small 0.25 inch white border to ensure space for framing.
Our Eco Credentials Include:
FSC approved or sustainably sourced paper
Printed using water based inks
Local fulfilment reduces carbon emissions
Contains no plastic
Sizes:
8" x 12" Inches = 20.3 cm x 30.5 cm
12'' x 18'' Inches = 30.5 cm x 45.7 cm 
16'' x 24'' Inches = 40.6 cm x 61 cm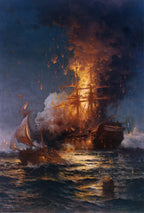 Burning of the Frigate USS Philadelphia | Edward Moran | 1897